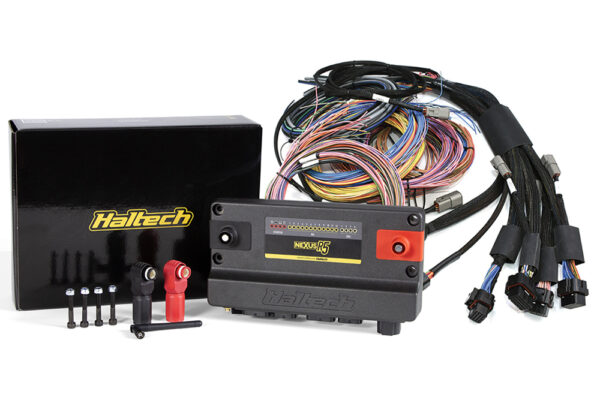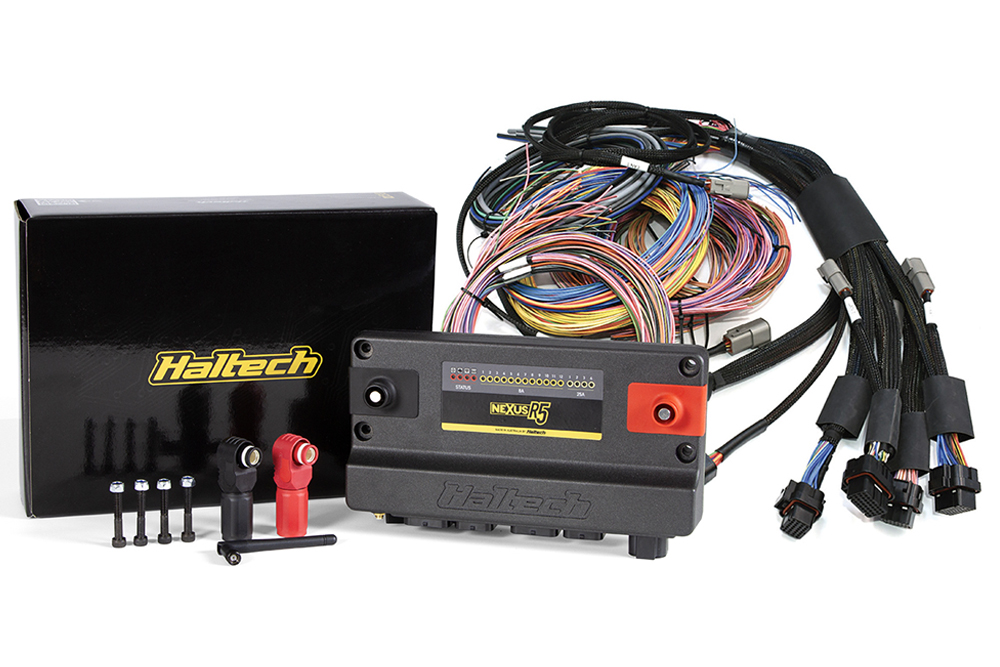 NEXUS R5 + Universal Wire-in Harness Kit Length: 2.5m (8′)
£3,935.00
Suits: Racing application where advanced race features, data logging and power management control is required.
Includes: NEXUS R5 VCU, SurLok connectors (Red and Black), Wi-Fi antenna, mounting bolts, USB-C Cable, USB-C dust cap, USB drive with NSP Software. Plug and pin set: AMP 26 pin key 1 and 3, 34 pin key 1 and 2, DTP-4. NEXUS R5 universal engine wiring harness, fire wall grommet 2.5in (63.5mm).
Description
OVERVIEW
HARNESS OVERVIEW
Ideal for dedicated race cars, engine swaps and custom wiring jobs. The Universal Wire-in Harness has a set of ECU connectors at one end and unterminated wires at the other. All the wires at the unterminated end are colour coded and clearly labelled. Connect your Haltech ECU to the terminated end and follow your wiring diagram for all the engine connections. Load your base map and you're ready to go!
Colour coded and labelled wires that match the detailed wiring diagram for a confusion free construction process.
The wiring diagram is accompanied by the full VCU manual and Software located on the USB key provided with the VCU, or downloadable from the Haltech Website.
VCU OVERVIEW
NEXUS R5 is the new Haltech flagship product combining the functionality of a power distribution module, a data logger, a dual channel wideband controller and a state-of-the art engine management system in one powerful device we call a VCU (Vehicle Control Unit).
4 x 25A (continuous) push-pull PWM capable (5 kHz) outputs (for power to injectors / coils, transbrake, thermofan, fuel pump)
12 x 8A (continuous) high side outputs (low speed PWM, 200 Hz) outputs (power to sensors, NOS solenoids, etc)
18 x peak/hold injector drivers (can be used as low side drive outputs)
12 x low current ignition outputs (can be used as low side drive outputs)
8 x low side drive outputs, PWM capable (DPOs)
4 x push-pull / h-bridge outputs (8A, PWM capable), eg for electronic throttle
23 x 0-5V analog inputs with redunancy for electronic throttle and switchable 5V pullup
Trigger and home inputs with differential inputs, adjustable thresholds and glitch filters
10 x synchronous pulsed inputs, zero crossing or adjustable thresholds – cam sensor inputs, frequency inputs or 0-5V analog inputs
2 x onboard wideband controllers, supporting NTK and LSU4.9
3 x CAN ports with switchable termination
FEATURES
VCU FEATURES
Long Term Learning
Stepper Motor Control
4D Closed Loop Boost Control
Closed Loop CO2 Control
Rotational Idle
Launch Control
Traction Control
Anti-Lag
Dual Knock Control
Trans Brake Control
Race Timer
Multi Stage Fuel Injection
Multi-level Engine Protection
6 Stage Nitrous Control
4-sensor variable cam control
Intake Air Bleed Control
Flat Shift Control
Shock Travel & Ride Height Control
Advanced Torque Management
AUTOMATIC TRANSMISSION CONTROL
Ford AODE/4R70W
GM 4L60E
GM 4L80E
Toyota A340E
Lenco
Liberty